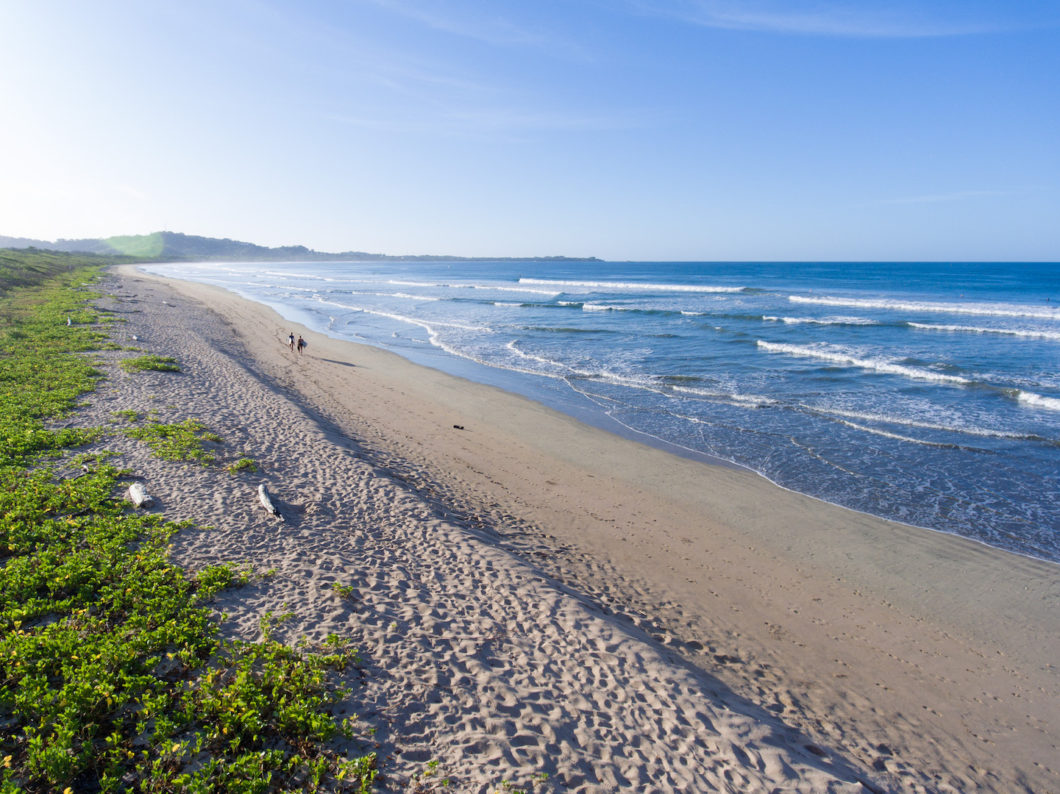 Beach Community
Playa Grande Estates, Costa Rica
Playa Grande Estates makes up the heart of the town of Playa Grande. It includes several boutique hotels, restaurants and other small businesses. This little town has that off-the-beaten-path feel even though it is less than an hour from the Liberia International Airport.
Playa Grande Estates is 150 acres of land all within a quick walk to the beach. The community can best be described as a family-friendly walkable surf town. The beach is a 3-mile stretch of white sand. Many people consider the surf to be the most consistent in all of Costa Rica. Playa Grande is a national park beach and one of the few nesting grounds for the Leatherback Turtle. This town has a very laid back vibe and you most certainly know all of your neighbors. The area has recently seen an influx of young families due to the growing number of quality schools in the area. Sunset is a very popular time of day so each night you will find most of the town gathered at the beach to witness the beauty. This is nature-lovers' paradise!
Lots are an average of 800 square meters (8608 square feet, .2 acres), and all of them have electric and water in place. Pricing starts at $99,000 and goes up into the $200,000's for the bet lots closest to the beach. All available lots are buildable now, after a recent legal change has removed previous difficulties from the permitting process! It's never been easier to get your spot and walk to the beach here, call or message for a showing!
Development in Playa Grande Estates
Playa Grande Estates now has a wide variety of lots ready to build right away, starting at $90,000. Lots are 800-1000m2 on average and have all utilities in place. Developer financing is available as well. Call or message for a showing!  There is also a brand new 3 Bedroom, 3.5 Bath home for sale.  For more information click here.
Business Community in Playa Grande Estates
Within the community there are several small boutique hotels, most of them family owned and operated. RipJack Inn is the largest hotel in the area with a total of 21 rooms. RipJack Inn has a tree top restaurant with some of the best food in the country. A few times each week you can catch live music and every day you can enjoy sunset happy hour.
The Yoga Shala in Playa Grande offers a wide variety of retreats, trainings and public classes for everyone to enjoy.
For all things surf you can visit the surf shop Frijoles Locos. They offer the best and most qualified surf instruction in the area. The shop at Frijoles Locos has a wide selection of boards to rent or buy.
There is a night market each Wednesday that features local artisans selling everything from jewelry and art to craft beer and burgers. There is also live music to enjoy.
Raising a family in Costa Rica
With the growing trend of working on line, Playa Grande has seen an influx of families with young children taking advantage of the area's private school's. Within about a 20 minute drive or bus ride you are able to select from several school's including; La Paz, Educarte , The Waldorf School and the Costa Rica International Academy. The area also offers several activities for children throughout the year. You can enroll at a dance academy, a martial arts school , a sailing school and of course surfing, just to name a few!
| | |
| --- | --- |
| Price: | Starting at $100,000 |
| Address: | Playa Grande |
| City: | Guanacaste |
| State: | Costa Rica |
| Zip: | |
| MLS: | |
| Lot Square Feet: | 800m2 -1000m2 |
Tagged Features
Listing Inquiry